About Catalyst Builders & Remodelers
Customer Reviews
By Allison K.
Chicago, IL

"I recently had catalyst construction build a small addition on my house. Eric and the entire team were fantastic. We are looking..."

By Eric G.
Chicago, IL

"Eric, the president of Catalyst, is one of the most professional people I have ever had to deal with. Their work is second to..."

By Marisa
Des Plaines, IL
Since 2008, Catalyst Builders & Remodelers has been providing quality home remodeling services in Greater Chicago. From kitchens to bathrooms and beyond, our focus has been on providing our customers with the highest quality work and highest level of customer service.
If you're looking to transform your unfinished basement into a new space that will add real value to your home, you've come to the right place. Catalyst Builders & Remodelers uses the proven and patented Total Basement Finishing system to provide our customers with the very best in durable, attractive finished basements.
Whether you're looking to transform your bathroom, kitchen, basement or another area of your home, all of our technicians are fully trained and certified to carry out work needed, and their dedication to customer service will put you at ease while you design your ideal remodeling project together. We look forward to helping you bring your vision to life!
About the Owner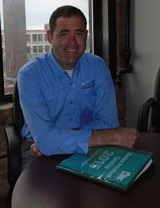 Owner Eric Udelhoven
Eric started working for his father at a young age where he learned what it really meant to cater to a customer's need. Upon turning 18, Eric wanted a "real" construction job and began working for a concrete company. He then decided it was time to get some professional training. In 1997 he attended Mingo Job Corps in Poplar Bluff, MO for Heavy Equipment Operation and Carpentry. Though he acquired skills and structure, he decided to join the U.S. Army where he was eventually stationed with the 173rd Airborne Brigade.
He was honorably discharged in 2002 and went on to continue his construction career. The majority of projects he was involved with were high-end residential renovations. He began attending night school for a degree in Construction Management. He graduated and moved back to Chicago where he put his degree to good use starting Catalyst Builders & Remodelers! During the peak of the recession, Eric fought his way through and persevered with dedication and integrity.
After living in Chicago, running one of the premier residential building companies in the area, he and his wife bought a home in IL that eventually fell victim to the typical leaking, wet basement problem. Using what he thought were the best products available on the market, Eric renovated the basement himself, but it still began to flood year after year. He then came across the reliable products and services provided by Basement Systems of Connecticut. Basement Systems showed him the proper way to waterproof and finish a basement in order to resist water damage in the future. In April of 2015, Catalyst Builders & Remodelers' Total Basement Finishing division was created to offer homeowners the most advanced basement finishing services in the industry.
Eric still lives in IL with his wife, Mary, and black Labrador, Maggie and enjoys spending time with them when he is not hard at work.
Our Accreditations
Catalyst Builders & Remodelers maintains a number of relationships with outside organizations to ensure we are giving our customers the highest-quality solutions for their remodeling and basement finishing needs. We are a member of the National Association of the Roofing Industry (NARI) as well as BNI, a business networking group. We will always continue to seek out partnerships that will benefit our customers.
Giving Back
Here at Catalyst Builders & Remodelers, we believe in supporting the community that we call home. We have participated in Habitat for Humanity, doing work and donating supplies, because we firmly believe that everyone deserves a healthy, happy home. We look forward to future opportunities to give back and make a difference in our neighborhood.
Affiliations
National Association of the Remodeling Industry (NARI)

Authorized Total Basement Finishing Dealer

Certified Veteran Owned Small Business

Kohler Preferred Installers
See All Affiliates